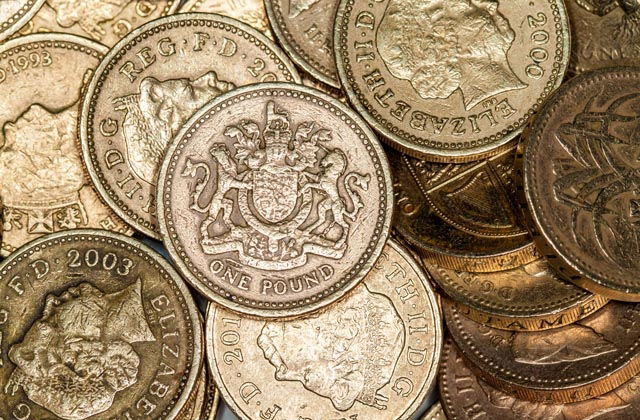 The £1 coin is set to be scrapped in favour of a 12-sided replacement inspired by the old threepenny bit.
Last night Chancellor George Osborne took a two-coloured prototype to Buckingham Palace to show to the Queen.
The plans for the new coin, which will be introduced in 2017, are being officially announced in the Budget today.
Ministers have said that we need to do something to combat the number of counterfeit pound coins in circulation.
The change is hoped to combat counterfeiting, as the designers claim that the new coin will be the hardest to copy in the world.
The 12-sided design is a nod to British history as it resembles a coin used from 1937 until 1971.
The Royal Mint estimates that an astonishing 45million £1 coins – 3% of the total – are fake. The figure is as high as 6% in some parts of the UK. Two million counterfeits are removed from circulation every year.
The coin – in gold and silver like the euro – will force firms and councils to make expensive changes to parking meters, vending machines and shopping trolleys.
The £1 coin – in use since 1983 – has had a much longer than normal life cycle for legal tender of its value. 1.5billion were in circulation as of March 2013.
Unfortunately the outdated technology used to make the coin means that it is vulnerable to sophisticated counterfeiters.
The new coin will be roughly the same size with security features including bi-metallic construction, the 12-sided design and the use of iSIS – integrated Secure Identification System.
This will mean an additive is built into coins which can be authenticated by high-speed scanners. And the technology will allow vending machines to spot fakes much more easily.
As with all British coins, the Queen's image will be on the obverse – or 'heads' side. The Treasury will hold a competition to decide the design for the reverse, or 'tails' side.
John Sheridan, counterfeit currency expert at the National Crime Agency, said: "The issuing of a new coin with enhanced security features will make it more difficult for criminals to copy as well as presenting increased opportunities for law enforcement to investigate and disrupt the producers and distributors of counterfeit currency."