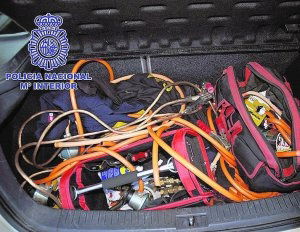 A gang which passed members off as Gas Inspectors has been broken up by the Guardia Civil. 
In the operation a total of 12 people were arrested, accused of forming 60 bogus companies dedicated in the main to targeting the elderly, foreigners and the disabled.
It is believed the gang have conned almost 2,000 people throughout Spain with many of them in Almeria Province.
The con men would turn up at the homes of vulnerable people and threaten them with cutting off the gas supply or a fine if they refused to have a gas check, classing it as 'obligatory'.
In this manner they would manage to get away with as much as €900 from some victims although the average was between €50 and €390.
The criminals enjoyed a luxurious lifestyle, while their network of companies racked up a debt of €4 million with the Social Security Department.
Police investigations led to the seizure of 227 bank accounts opened at 19 branches throughout Spain as well as the seizure of 10 luxury cars.
The investigation which took almost two years focused on a network of companies dedicated to gas maintenance, leading to raids on homes in Almeria, Granada and Malaga.