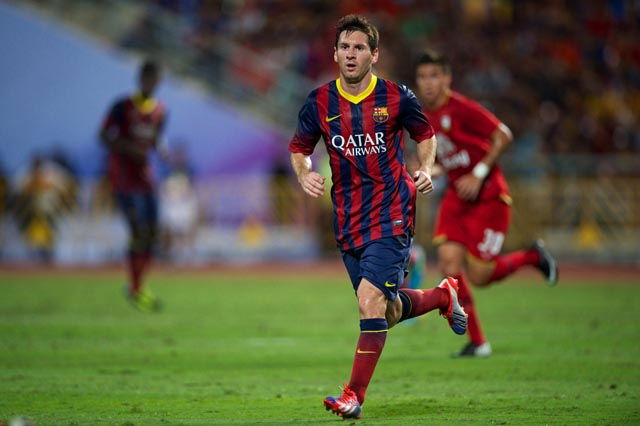 Barca player Messi could become the highest paid player in the world if his €250m contract renewal is carried out.
The striker, currently negotiating a contract renewal with Barcelona FC, has also reportedly pledged his allegiance to his boyhood dream club, despite substantial interest in him from clubs like Paris Saint-Germain and Premier League billionaires Manchester City.
A Barcelona representative has confirmed that Messi wants to remain in Spain until the end of his career.
Manel Arroyo, Barcelona's Vice President of Communications, said: "Leo has said in his own words that he wants to retire at Barca."
Representatives of the 26-year-old Argentinean player are pushing for €25 million on a five-year contract. This will be his seventh contract extension in 9 years.
However, the Catalan club is said to be reluctant to sign-off on such an expensive payday.
Rumours are rife that the club are offering much less than what Messi and his camp are hoping for.
Messi's representatives are apparently using Brazilian Neymar's transfer to their advantage, arguing that Messi is worth the extra money.
Neymar is rumoured to be earning €18 to €20 million per year, making the Brazilian the highest-paid Barcelona FC player.
Although Messi is generally considered to be the best player in the world, and arguably more valuable to the club than Neymar, he is said to be earning only €16m per year.
Messi recently met with a new value-increasing accomplishment, becoming the club's highest ever scorer with 371 goals.