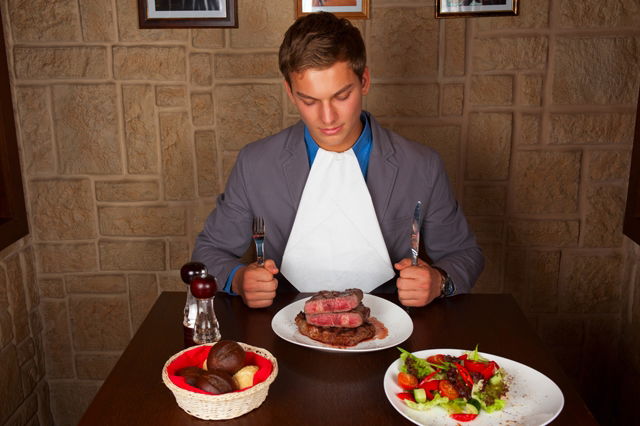 OH dear. Yet again, it seems that we shall have to reach for the freeze-dried nutrition capsules to subsist without risking our lives.
A study recently published in the medical journal Cell Metabolism claims that eating a diet high in protein is as bad for you as smoking.
So while you thought a lean peace of fillet accompanied by a light salad was just the ticket for optimum nutrition, it seems you may as well have lit up a fat cigar.
Now, it later emerges that the findings were not quite as conclusive as they first appear, but it still leaves us ordinary folk confused about what should safely make it on to our plates. Sugar – or the white poison – is banned.
Salt is slowly killing us, as the average Briton apparently consumes some eight grammes each day, while the limit should be set at six grammes to avoid heart attacks and strokes, according to the World Health Organisation.
Best not even get started on the whole minefield of bread, pasta or wine, consumption of which seems to rank higher than say bungee jumping in the health risk stakes.
Frankly, I am feeling a little weak just writing this crouched over a coffee and a croissant (to calm my frayed nerves).
The fact that I grew up eating meat and biscuits, drinking milk and later wine makes me a walking miracle – surely I should be six feet under already?
Even opting for vegetables and fruit doesn't put you in the safe zone. Recently a lunch guest gave me the third degree about the origins of the strawberries I was serving his children.
Were they local? Organic? Feeling like a criminal, I Googled this dangerous murder weapon to discover that, indeed, strawberries have been found to contain 13 different pesticides.
Lettuce, apples and potatoes were also among the suspects, unless organic, while safest of the conventionally farmed offerings included avocados, bananas and broccoli. 
Organic food isn't always an option because of cost factors or availability, and we don't all have the space or time for an effective allotment in our backyard.
So, ultimately the day of the freeze-dried nutrition pack may soon be upon us after all.
Either that or hope that all those pesky preservatives in our diet actually turn out to 'preserve' our bodies, too. Imagine the irony.