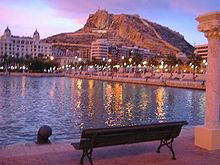 Alicante is spending more on services than other large cities.
According to the study on Transparency of Public Accounts, relating to the budgets of 2010, 2011 and 20112, Alicante city spent an average €374 per inhabitant, whilst the average for large cities is €337 on basic public services.
However, spending on social protection was below the average for cities with over 100,000 inhabitants, registering an average €53.7 per person compared to €70 per person.
Regarding development projects, Alicante spent an average €28.6 with other large municipalities spending an average of €47 per inhabitant.