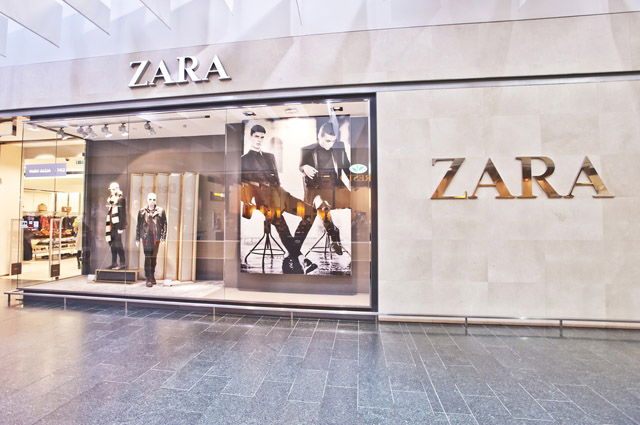 The world's biggest fashion retailer, Inditex, is going cheap and cheerful
Inditex owns companies like Massimo Dutti, Oysho and Zara.
It is this type of middle-of-the-road, moderately priced brand that has suffered since the 2008 start of the financial crisis as people resort to the cheapest shops for most of what they want – but go high-end for the occasional indulgent purchase.
Lefties, the group's discount store, could be the key to winning back austerity-era customers who have switched to brands like H&M and Primark.
Swedish brand H&M and British Primark have expanded fast in Spain since 2008, as unemployment topped 26% and retail sales shrank steadily for many companies.
H&M's sales in Spain rose 5% in 2013 compared with a year earlier, while its number of stores rose to 156 from 146 in the same period.
Primark, an Associated British Foods brand, has 39 stores since arriving in Spain in 2006.
John Bason, chief financial officer of Associated British Foods, insists that Primark is not dependent on hard times for growth. Bason also acknowledges that Spain's low-cost niche was underdeveloped in 2006.
He said: "What Primark has demonstrated is the potential for growth of the value segment in Spain."
Inditex has shrunk the number of its Zara stores in Spain from 514 in 2008 to 469 at the end of 2012, while adding five or six Lefties stores a year in recent years, according to a spokesman. Lefties now has 86 stores in Spain and a further 16 in Portugal.
The company needs to compete with stores
Inditex's total number of outlets for its many brands may still tower over the numbers of both H&M and Primark stores – but the latter two companies are capitalising and expanding.
Although the Spanish economy is recovering, many spenders are wary of overspending even if they do have disposable income.
At the moment Inditex barely acknowledges the existence of Lefties.
The 21-year-old brand was created to sell Zara's leftover last-season products, and is not promoted on Inditex's corporate website.
However, in recent months Lefties stores have been redesigned, with changes including a modernized and attractive store design and a focus on technology as screens display models wearing Lefties clothes.
Lefties has a new head, Xavier Ruz – formerly of Inditex's teen brand Bershka – who was appointed in January and the label recently launched its newly designed website.
Experts don't think Lefties will remain under the shadow of Zara for long.
Carlos Hernandez from retail consultancy Planet Retail said: "I think it's only a matter of time before Inditex treats it as a separate brand and breaks out its figures.