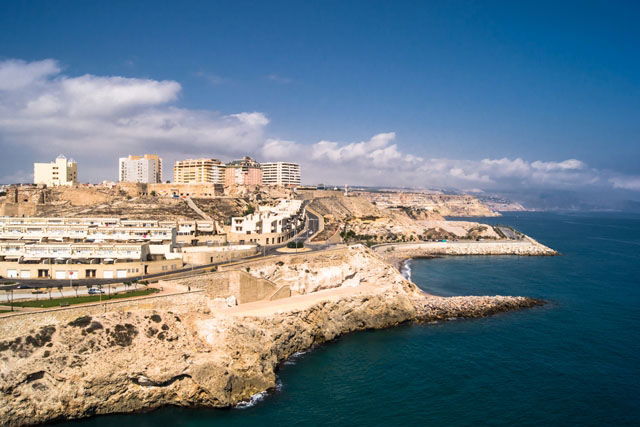 A crowd of migrants stormed over the border fence between Morocco and the Spanish territory of Melilla this morning.
A Spanish government official in Melilla admitted that a "very big" group stormed the triple fence – but declined to say how many.
It is believed to have been the biggest crossing in recent years.
The Moroccan Interior Ministry confirmed that there were hundreds of people. Around 600 migrants headed to the enclave at 7 a.m. and 102 were arrested.
But police had detained another 150 from an earlier wave at 3:30 a.m.
According to the governor of Melilla, Abdelmalik El Barkani, roughly 1,000 people rushed the triple-layer fence separating the Spanish city from Morocco in a "violent" border assault and of these 500 made it across.
Melilla is a Spanish exclave. It forms one of Europe's only two land borders with Africa, along with another Spanish territory, Ceuta, to the west.
The two cities, Melilla and Ceuta, sit across the Mediterranean from mainland Spain. Surrounded by Moroccan territory, they are a key entry point for migrants seeking to enter Europe.
It has not yet been confirmed what nationalities the migrants were.
The ministry said that 28 migrants were injured by the barbed wire on the fences protecting the enclave. They were taken to Nador hospital where they were treated for their injuries.
Sources say that five members of the Moroccan security forces were injured by rocks thrown by the migrants.
The incident is the latest in a string of perilous crossings. The number of Africans trying to cross into the territories has surged over recent months.
More than 200 migrants stormed over the fence into Melilla on February 28, leaving 35 injured.
Many have tried to sail to Spain's North African territories or the mainland in makeshift vessels, while others have attempted to enter the country hidden under car seats.
On February 6, 15 migrants drowned in Moroccan waters while trying to swim to Ceuta from a nearby beach.
The Spanish security forces were heavily criticised for firing rubber bullets at the migrants in the water.