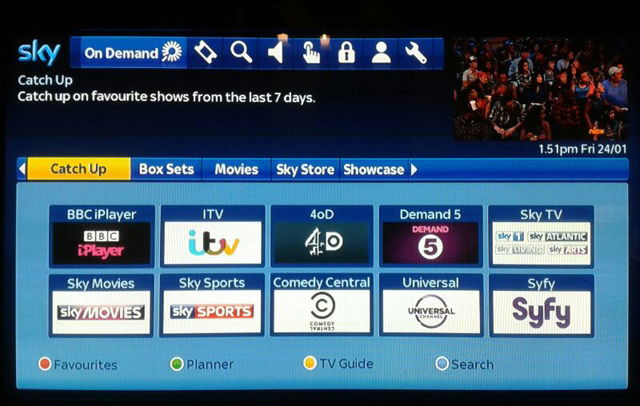 UK TV router is a product that was started mid June 2013 with the intention of using TV on demand facilities from the UK via Sky+ HD boxes & Humax Freesat with Freetime. These include BBC iPlayer, ITV Player, 4OD, Demand FIVE.
UK TV Router also allows you to connect iPads, PCs, smart phones etc. all of which will appear to be in the UK, thus allowing Sky Go, Live TV, iPlayer etc.
The UK TV Router is a product originally developed by Base Satellite to allow our customers to get the most from their existing TV systems. We are a family run business operating in Spain, with a very good reputation since 2000.
Here's a selection of our customers' own reviews:
"Good decision. I am well pleased with the router and it was very easy to install. I also got On Demand – again easy to install. "(TORREVIEJA)
"I am really impressed with this router. It arrived two days after ordering and took only minutes to set up after which it has performed perfectly. In addition to providing the full range of On Demand services on the TV, it has improved wi-fi reception around the house as it has a stronger signal than my Belkin router and it works seamlessly with the iPad to provide live TV via Sky Go, use the Apps for Sky+ and Sky Sports and watch catch up TV." (ALICANTE)
After seeing all of the various adverts in the newspapers for boxes to receive UK TV, I went onto the uktvrouter.com website and was immediately impressed with the information and the professional way that it was laid out. I decided to bite the bullet and ordered the router with the year's subscription. I already have a SkyHD+ wi-fi receiver, when the TV router arrived just three days later it was an absolute doddle to set it up wirelessly to my Sky box. Really impressed with the service and thanks Paul for your prompt reply to my query. I will certainly recommend your company. It's nice to actually get something that does exactly what it says on the box!! Even more importantly, the wife is back watching Corrie and Eastenders and my life is smooth again."(TORREMOLINOS)
"I can't give this product enough praise. I have had mine since October 2013 and wouldn't be without it. I have connected my iPad, laptop, smart TV and sat box. It's great, I can watch Sky Go on the iPad, buy lottery tickets etc and when the channels went off in January we didn't notice any difference. All the BBC and ITV channels are still available via the internet on whatever medium I choose. Sky On Demand is great as we choose our viewing for the day and it's waiting for us to watch on the recorder." (ALMERIA) 
For full information visit www.uktvrouter.com or call on 667 427 271 or 962 800 807.