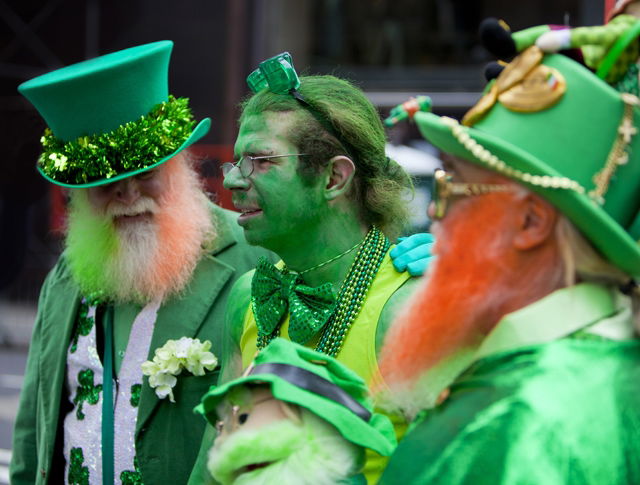 Join in all the fun with the Irish at Marbella's St Patrick's Day Festival today (Saturday) and tomorrow (Sunday).
From noon until 7pm on both days, the best of Irish culture will be showcased at the event being held on the terrace above Marbella Marina (Puerto Deportivo).
All comers are invited to go along and experience a little bit of Ireland – but by the Mediterranean.
A full programme is planned, including Irish dancing and music all afternoon, gourmet  tapas including Irish Whiskey and cheese. The fun doesn't stop there, with a bouncy council for the little ones, and for the sporting minded there will be Gaelic football on the beach.
And it is all for a good cause with local charities set to benefit from the day.
The fun does not stop there, for also in the Marina is Marbella's genuine Irish pub – The Irishman. It will be open, as usual, early to late serving food and drinks in a family friendly atmosphere. Not only will it be celebrating St Patrick's Day in the usual Irish style, it also shows all the latest sports including GAA, rugby and Premiership football.
So why not enjoy a great day out at the festival and at The Irishman, located on the beach side of the Puerto Deportivo.
Organisers of the festival said: "We, in Marbella, don't want to miss out on the fun and festivities that a traditional St Patrick's Day brings, so for your pleasure, we invite you to the warmest St Patrick's Day festival yet!  The terraces of Marbella Marina or Puerto Deportivo will be awash with whistles, whiskey and 'wee' tastes of all things Irish, so come join us as dancers and musicians woo you, your tastebuds will be satisfied with the keen tastes of 'home' and the 'craic' will be shared as you meet with friends that you just hadn't met yet!
"What we have currently lined up are 16 top exhibitors from some of the best Irish owned and partly inspired restaurants, traders, bars and businesses from Beckitt's Restaurant to B-sure Insurance, Tom's Coffee, to Tiger Bay and Casa Tua, only naming a few. Irish dancers will be stepping, reeling and jigging; musicians Marc Romano, Joris Margot, Mandy Lovett and Sean Murray along with Europealia, Tony Watson, Marc & Ron and Alan Hamilton will take to the bandstand."
Some of the tasty treats on offer include:
Irish Beef Meatballs
Irish Flag Caprese
Irish Smoked Salmon Club
Beeramisu
Open honey glazed Ham Sandwich on Irish Soda Bread
Selection of Irish Cheese
Warm Cashel Blue Cheese & Ballymaloe Tartlet with a light Port Dressing.
Irish Seafood Chowder
Breakfast Baguettes/Pitufo
Mini Burger
Irish Apple Crumble
Clonakilty Black Pudding & Goats Cheese with Caramelized Onion.
Traditional Irish Stew
The St Patrick's Festival Marbella is not just about food and drink, but it is an important day for all of the family and we are committed to continuing the Traditional Irish tradition of St Patrick's Day being very much a family day. While the adults are entertained with the main stage, there are plenty of activities for children, including bouncy castle, clowns, face-painting, plus there will be slides and climbing frames and much more, with the GAA teaching the children all about the game. Snacks, ice-cream and soft drinks will also be available for the children.
This year's Chosen Charity is the Bancosol Alimentos – Food Bank.
In Marbella the HQ for the Bancosol Alimentos is in La Campana Business Park where thousands of tons of food is collected and redistributed each year to the many thousands of people who find it difficult especially in the winter months when temperatures drop and work opportunities dry up.
Festival goers are asked to take along non-perishable foods to the collection point to donate to the food bank.