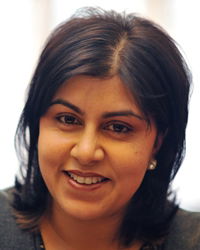 UK senior Foreign Office minister Baroness Warsi summed up Britain's position on Gibraltar firmly and concisely this week in Parliament.
The senior Minister of State at the Foreign and Commonwealth Office said:
"At the heart of this issue is the right of the people of Gibraltar to determine their own future.
"The current constitution of Gibraltar already includes the assurance that the UK will never enter into arrangements under which the people of Gibraltar would pass under the sovereignty of another state against their wishes.
"Furthermore, this Government have repeated the assurances given by the previous Government that the UK will not enter into a process of sovereignty negotiations with which Gibraltar is not content."
Baroness Warsi said: "For as long as the people of Gibraltar wish to retain British sovereignty, we will continue to work with their elected representatives to ensure that they pursue their legitimate interests unhindered by unreasonable and illegal actions by any nation, but of course most recently Spain.
"However, it is also clear that co-operation between Gibraltar and Spain offers many benefits to people on both sides of the border.
"Fostering that co-operation remains in everyone's interests, and with the support of the Government of Gibraltar, remains our long-term aim too.
This newest statement comes following a series of incidents concerning Gibraltar which have somewhat strained relations between the UK and Spain.
News emerged last November that a British diplomat's bag had been opened by Spanish guards at the border with Gibraltar, causing the British Government to react furiously – despite Spain's efforts to play down the matter.
According to Baroness Warsi, British officials were so angry that the Spanish ambassador to London, Federico Trillo, was immediately summoned for a meeting.
Britain sent for the Spanish ambassador on three occasions last year, twice within the space of a week.
During the Gibraltar debate in the House of Lords, Baroness Warsi, referred briefly to the bag incident in response to questions from Tory peer Lord Patten.
"We did indeed summon the Spanish ambassador and subsequently received assurances that it would not happen again, and to date it has not." she said.
The revelation of this third meeting sheds further light on just how tense relations between the UK and Spain were last November.
The first meeting took place on August 2, 2013, when Trillo was called in order to underline the British Government's serious concerns regarding delays at the Gibraltar-Spain border.
The second was on November 19, 2013, when he was called in following a 22-hour unlawful incursion by the Spanish oceanographic research vessel Ramon Margalef into British Gibraltar territorial waters.
We now know that within the space of a week, he was back in the Foreign Office once again to answer questions about the bag incident.