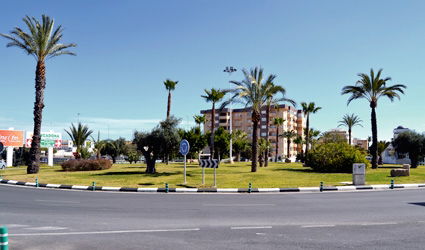 EXPATRIATE business-people are calling for road safety measures to be put in place after a woman was hit by a car in an 'accident waiting to happen'.
The victim, a waitress, was knocked over as she crossed Avenida de Villamartin, La Zenia, prompting residents to call for more safety precautions to be installed on the road.
Hazel Connor, owner of nearby Paddy's Point, said: "We heard the sound of her body hitting the car windscreen from the bar." The Spanish waitress, in her 20s, was crossing the road from Alejandro's Restaurant when witnesses say one car stopped in the nearest lane to allow her to cross, but another vehicle overtook it in the other lane, hitting the female.
An ambulance crew attended to her for half an hour before transporting her to hospital. Staff at Alejandro's Restaurant said she had suffered a broken shoulder and finger as well as cuts and bruises, and remains in hospital after undergoing surgery.
Hazel said this stretch of road, leading from La Zenia roundabout and the N-332, was an accident waiting to happen. She said the manager of Consum supermarket just down the road had spoken to her about the road. "He said someone is going to get killed as cars are going so fast," recalled Hazel. It was just months ago that the road was hitting the headlines as plans were in place to close two access roads off the roundabout as reported in Euro Weekly News. "If this had gone ahead it would have been so much worse with more cars going down Avenida de Villamartin, potentially causing more accidents," said Hazel.
A local neighbourhood association has now been set up and will renew safety calls for a proper pedestrian crossing and traffic lights to be installed.