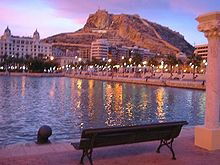 The green light has been given for a new footbridge giving access to Aquamarga beach in Alicante.
The new access will provide a safe passage over the railway line, a black spot that has claimed seven lives in recent years.
The move comes following the launch of a campaign by the mothers of two young men who died crossing the tracks in 2012.
Their petition gathered almost 13,000 signatures which was presented to the Railway Infrastructure Administrator (ADIF) headquarters in Madrid.
The project has a budget of €147,334.56 with a lead time of two months.