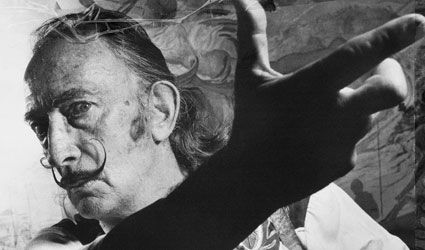 WE know their names, but seeing them all together reminds one of the depth of Spanish culture and its people. Here are our picks for Top 10 Outstanding Spaniards and their contributions which helped put Spain on the world map of culture and history, listed by date.

El Cid (circa 1043–1099)
Known to the Spanish as El Campeador (The Champion) and to the Moors as El Cid (the Lord), El Cid is Spain's national war hero. A medieval Castilian nobleman and military leader from Burgos who helped enlarge Castilian territory at the Muslims' expense, he is immortalised in folk tales, songs and plays.
Queen Isabella (b. 1451) and King Ferdinand (b. 1452)
Known as 'The Catholic Monarchs,' Queen Isabella I of Castille and King Ferdinand II of Aragon were second cousins who came together at ages 18 (Isabella) and 17 (Ferdinand) in a marriage that historians consider critical to the unification of Spain. They also funded Columbus' 1492 voyage to the New World.
Hernan Cortes (1485-1547)
Cortes was a soldier and explorer from Badajoz known for leading the conquest of the Aztec empire in today's Mexico. His activity helped begin the great wave of colonisation in the Americas.
Ignatius of Loyola (1491-1556)
Ignatius of Loyola was a knight from a Basque noble family in Guipuzcoa. As a young man he abandoned his military life, devoted himself to God and became an important Catholic religious leader during the Counter-Reformation. He founded the Jesuit order (Society of Jesus) and his Spiritual Exercises remain widely used to this day.
Miguel de Cervantes (1547-1616)
Cervantes is one of Spain's famed literary figures. His classic masterpiece Don Quixote (fully titled 'The Ingenious Gentleman Don Quixote of La Mancha'), first published in 1605, is known around the world. Spanish literature and the language itself was shaped by Cervantes' works. He was from Alcala de Henares (Madrid).

Antoni Gaudi (1852-1926)
Gaudi was an internationally-known Catalan modernist architect from Tarragona. His still-uncompleted work La Sagrada Familia is one of Spain's most visited sites. Gaudi's devotion to his Roman Catholic faith, which intensified during his life, earned him the name 'God's Architect.' Seven of his works have been declared UNESCO World Heritage Sites.
Pablo Picasso (1881-1973)
A native of Malaga, Picasso was one of the 20th century's greatest and most prolific artists. Co-founder of the Cubist movement, one of Picasso's greatest works is the painting "Guernica" depicting the Basque town's destruction after its bombing by the Nazi German Luftwaffe in 1937.
Andres Segovia (1893-1987)
Perhaps the greatest guitarist of all time, Segovia was born in Jaen and is the father of modern classical guitar. Expressive and distinctive in his style, almost every professional classical guitarist today is a student of Segovia.
Salvador Dali (1904-1989)
Known for his flamboyancy, Dali was a surrealist Catalan painter born at the turn of the century in Girona. When asked if his 1931painting 'The Persistence of Memory' was an interpretation of the world based on Albert Einstein's newly-introduced Special Theory of Relativity, Dali replied that the melting watches weren't inspired by the theory of relativity but rather by his surrealist perception of a melting Camembert cheese in the sun.
Severo Ochoa (1905-1993)
Ochoa was a doctor and biochemist whose work on protein synthesis revolutionised the study of RNA (ribonucleic acid). He was jointly awarded the Nobel Prize in Physiology and Medicine in 1959. The United States Postal Service issued a stamp in his honour.