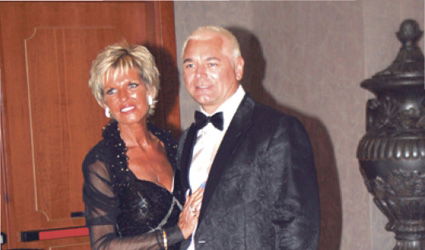 Butterfly Ball 2014 in aid of Rhys Daniels Trust
Tirelessly working for charity
STRAIGHT talking Michel and Steven Euesden arrived on the Spanish Costas 19 years ago.
Since then they have made quite an impression and earned a reputation for holding black-and-white views on life, business and people.
This has landed them in hot water in the past and they would be the first to agree that it will do so in the future.
Controversy apart, Michel and Steven and the Euro Weekly News are heavily involved with charities throughout Spain. Their only requirement is complete transparency regarding the funds raised.
They are aware that this money comes from people residing on Spain's coasts, an area significantly affected by the current economic crisis.
It is therefore doubly important that their generosity is put to good use for the sole benefit of the charity and never abused by excessive expense claims.
This naturally held good for the Euesdens' proud sponsorship of last year's Butterfly Ball in aid of the Rhys Daniels Trust, and hopefully so in 2014.
The Euesdens do not need persuading to sponsor the event – but they admit that the passion and drive of award-winning charity organiser Patti Senker is contagious. 
Tireless Patti devotes her time to the Costa del Sol's worthy causes out of a desire to help others less fortunate than herself.
Celebrities who lend their names as patrons of the Rhys Daniels Trust include the Duchess of Kent, Pauline Quirke and Max Clifford.
"Now before anyone starts bombarding us with hostile emails and the websites are set alight with malicious content, remember we were raised in Britain, a country which prides itself on its judicial system," said Michel. "Everyone is innocent until proven guilty.  Bearing this in mind, Max Clifford is still a patron and everyone involved is still proud to have him on board.
"We are not in a position to judge this man," Michel continued.  "Nor are you, dear reader, we'll leave that to the professionals."
Michel and Steven know personally what it is like to suffer at the hands of a vicious website. 
They were bullied and victimised until the courts intervened, but countless personal and professional untruths were spouted about them. Ten years later they have finally had their day in court, with former owner of The Entertainer newspaper Lenox Napier facing a possible jail term if found guilty. The libel case still awaits a verdict, with Michel and Steven confident that at last the truth has come out.
But in many ways the damage has been done, because some people will always believe what they have read, and on the internet many scurrilous rumours have been spread masquerading as fact from people who believed every word they read without checking for the truth. "Our lives have been demonised beyond belief," said Michel.
 "Because of that, I beg you all, don't throw the first stone," she urged.
Instead, the Euesdens would prefer people to use their energies in supporting worthwhile causes. 
That is a sentiment that someone else going through a tough court case can relate to.
PR guru Max Clifford, a patron of the Rhys Daniels Trust has been throwing his weight behind the charity for many years.
"I cannot and will not guarantee someone's innocence in this tangled affair," Michel said in reference to Max Clifford.  "But without a shadow of a doubt, together with his celebrity golf challenge held in Marbella every year, the ball has raised hundreds of thousands of pounds for the charity.
"Along the way many a smile has been raised, not just by those attending the events, but more importantly on the faces of the children it helps.
"One thing is beyond dispute, the desperately ill children who have been helped by the Costa community are innocent."
Last year the Ball was held at the prestigious Puente Romano Hotel on Marbella's Golden Mile.
From start to finish it was fun and packed with first-class entertainment, coupled with lashings of glamour.
This year's Butterfly Ball will be held on June 22, again at the Puente Romano. Tickets are £140 / €150 each, with all funds raised supporting the Rhys Daniels Trust 'Home from Home' Appeal. The Butterfly Ball ticket includes dinner followed by an evening of show-stopping entertainment and dancing. The Ball always has celebrity support – you never know who you will meet!
This vital charity provides free, self-contained accommodation for families while their very sick children receive life-saving treatment far from home.
To book your tickets please call the Rhys Daniels Trust office from the UK on 01995 570550, or from Spain call the UK office on 0044 1992 570550 or call Patti in Spain on 0034 637-969-189.
Advertising opportunity:
Contact the organisation if you would like to advertise at this event or become an event sponsor, please call the Rhys Daniels Trust office from the UK on 01995 570550, or from Spain call the UK office on 0044 1992 570550 or call Patti in Spain on 0034 637-969-189.