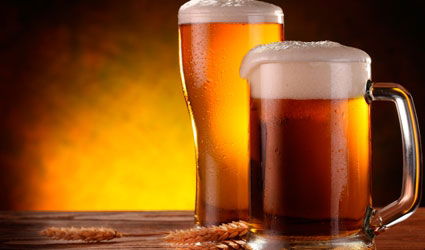 We have all heard that moderate consumption of red wine can be beneficial to our health such as reducing the risk of depression, dementia even sunburn. Red wine can reduce the risk of bowel tumours by up to 50 per cent. It even has anti-aging properties due to its the high levels of antioxidants.
But what about beer?
According to Spanish researchers, drinking beer (in moderation!) can be good for you especially if you suffer from high blood pressure. Providing it does not contradict any counter indications of high blood pressure medication. It is recommended that patients consult their doctors for more information.
Moderation means drinking between one or two half pints (cañas) a day for women and two to three cañas for men.
The Beer and Health Information Centre, the Spanish Association for High Blood Pressure and the Spanish League Against Hypertension concluded that the drink can be included as part of a low-salt diet for adults who need to bring their blood pressure down. This is also true for alcohol- free beer.
Beer is high in potassium, an essential ingredient for sufferers of hypertension. It also increases good cholesterol in women. It is still unknown why this does not have the same effect on men.
Beer is low in salt, much more so than fizzy pop drinks. The World Health Organisation (WHO) recommends a maximum of two grams of sodium a day, which equals five grams of salt.
Nearly 14 million people in Spain suffer from high blood pressure, but an estimated 14 per cent are unaware of the fact, according to Dr José Antonio García Donaire from the Blood Pressure Unit at Madrid's Hospital Clínico San Carlos.