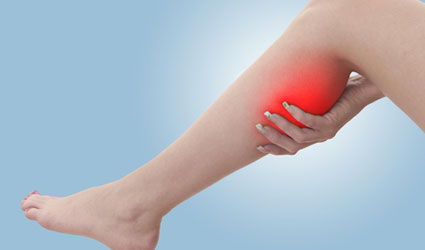 WE are still talking about the calf muscle group which consists of the Gastrocnemius, Soleous and Plantaris muscles situated at the back of the lower leg.
Calf muscle injuries are most common during sports and are often referred to as a "pulled muscle" as the term refers to how the injury occurs.
Usually the calf is forcefully stretched beyond its limits and the muscle tissue becomes torn causing it to bleed. A tear is called a strain and is classified according to its severity:
First degree – Damage to a few fibres.
In a grade one calf strain you may not feel anything until the activity is over. There will be a slight sensation of cramp or tightness and a light pain when the muscle is stretched or contracted (often the morning after rather than at the time).
Second degree – Damage to a more extensive number of fibres.
A grade 2 strain is more immediate and the pain more severe. The muscle is sore to touch and usually hot and swollen the next day causing difficulty when you try to put your heel to the floor.
Third degree – Complete rupture of the muscle.
A grade 3 muscle strain is a very serious injury and there is immediate pain with a burning or stabbing sensation and, you will be unable to walk without pain. If the muscle is completely torn there may be a large lump of muscle tissue above the depression area where the tear is.
After a few days with a grade 2 or 3 tear a large bruise will appear below the injured area, this is caused by the bleeding within the tissues. This may even appear in the arch of your foot!
Ideally, seek an appropriate diagnosis as soon as possible to minimise ongoing damage and follow your physiotherapist's advice.
Rest is the common sense approach but ignoring it can then lead to the risk of increasing from a grade 1 tear to a grade 2, or worse, from a grade 2 to a grade 3. No matter how insignificant you think the injury is, get off the leg, put it up, and apply the RICE rules:
R – Rest.
I – Ice for 10 minutes at a time, repeating every half an hour.
C – Compression using bandages or taping techniques to support the calf.
E – Exercise and stretch the muscle once it has fully recovered.
Recuperation time is between 4-6 weeks for a grade 1 or 2, however, if you rupture the muscle and need a surgical repair, you can expect to be out of action for around 3 months.
To minimise your risk long term, improve your training techniques by performing regular calf stretches and gaining greater stability in your core muscles. You can also consider the use of corrective insoles to minimise further episodes.
If you have any questions related to the symptoms and/or treatment of Calf Strain please call The Bodyworks Clinic on 952 883 151 or visit www.TheBodyworksClinic.com