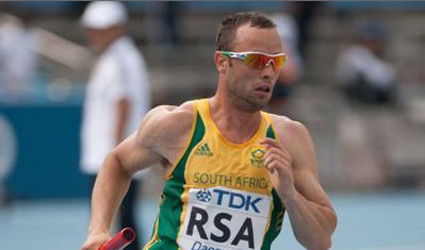 Heartbroken mother of Reeva Steenkamp talks about first day of trial – and 'forgives' Pistorius
The mother of Reeva Steenkamp has said she attended the first day of the Pistorius trial because she wanted him to see her in court.
June Steenkamp, 67, described how the paralympian walked straight past her, appearing not to notice her.
In an interview with ITV she said: "I wanted to see him and him to see me but he didn't look at me or anything. He just walked straight past me and looked ahead."
 
"The whole point was he must see me, that I'm there," she said. "I'm her mother and you know, what happened to her was terrible. And I wanted him to see me there, that I am there representing Reeva."
June said that hearing evidence about her daughter's death was "very traumatic, very hard".           
"I tried to keep strong. There was one occasion where I didn't and I had a little breakdown, you know where they were talking about Reeva, what she went through and how she was traumatised.
"You can imagine. She's locked herself in the toilet and she's been shot and she's in pain… I wish I could have been there to protect her.
Mrs Steenkamp said previously said that she would only attend the first day of the trial because she "could not bear" hearing graphic evidence about how her daughter died. "I couldn't go through that every day," she said. "We just want to know the truth."
June told ITV that husband Barry suffered a stroke last month due to the stress of what had happened, and was not able to attend court because of his poor health.
Showing tremendous compassion, June said that she has forgiven Oscar for killing her daughter.
"I'm not a person who hates another person," she said. "One has to forgive otherwise I will sit with all that anger and I don't want it to burn me up. One has to forgive. We'll never forget."