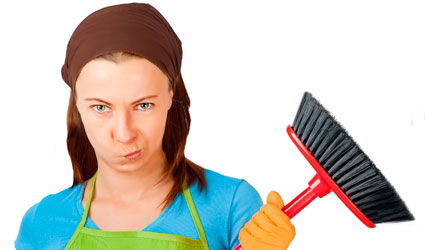 ALMOND blossoms have just about withered and fallen like snowflakes from the trees and it looks as if we have survived this year without the unusual cold and snow of the past couple of winters. So there is no way out of it: it is time for the Limpieza de Primavera.
While I love spring – the promise of the newand warmth yet to come – the cleaning part of it has never scored highly in my chart of all time favourites. But as I don´t have staff, there is little choice but to roll up the sleeves, put on some music and get stuck in, marigolds and multiusos spray at the ready.
Since my enthusiasm waned rather quickly, I resorted to that great guru of inspiration – the internet. I discovered wise words from a chap known solely as John, who shares his pearls of wisdom on how to simplify your life by reducing our worldly possessions to 300 – one fork counting as one item… Feng Shui to the extreme, but it rather appeals given my present conundrum of having a gazillion things to clean. 
John argues that we keep too many possessions for reasons other than usefulness – such as items we keep for sentimental reasons, societal pressures or simply because we may need them on a rainy day. He may as well have written this directly for my benefit, as I consider the many pairs of shoes that are too high to walk in, but would be perfect when the Sultan of Brunei invites me around for high tea. Or the multitude of plates and cups that pile up because the dishwasher (me) doesn't get around to them as frequently as I should. 
Mainly, though, I identify items to dispose of from other members of the household: kids' toys? Hardly ever played with, in the gifting bin they go. Husband's collection of strange DIY tools and stamp collection? No use whatsoever, off they go to a better home, one where more than 300 items are welcome.
Meanwhile, the rest of the house is no cleaner. Do cobwebs count as an item? What I really need is Kim Woodburn to descend on my house, while I recline with a chilled glass of rose as a just reward for my efforts. Even my fine work of disposing of unnecessary items is quickly undone when husband and kids return to protest my selection. Perhaps I should just listen to the wise words of sociologist Ann Oakley: "Housework is work directly opposed to the possibility of human self-actualization."
So there. Off come the marigolds and the multiusos spray is back in its place under the sink. Perhaps I could just open all the doors and let the wind do the work for me? This, too turns out to be inadvisable, as the spring breeze leaves a fine layer of yellowish pollen behind.  Best wait for summer to do the spring clean – mañana seems a good day to do it.