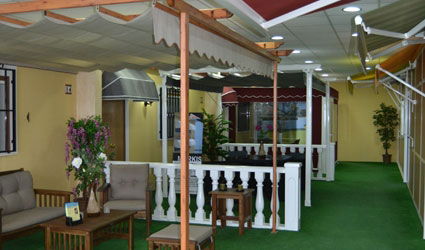 ESTABLISHED for more than 30 years, Toldos Guardamar are the leading manufacturers, suppliers and fitters of all types of awnings, pergolas and sun shades.
Continuing to expand, they welcomed more employees last year, helping the company reach it's objectives of being the leader in the market and are pleased to announce they have recently opened their new Dutch base in Leiden, Holland, for their international clients as their products are sold around Europe.
This growth and success would not have been possible without the quality of their product. Using Docril fabric, it comes with a seven year gold warranty and has full sun UV protection of UPF 50+ meaning your toldos will retain it's colour and quality for years. It also has the APPLUS+ quality certificate.
From their showroom in Guardamar on the Poligono Industrial Santa Ana, customers are greeted with a selection of possibilities. From window canopies and electric awnings, to stand alone pergola structures, the only limit on what Guardamar Toldos can do is your imagination. Their professional and multi-lingual team are happy to discuss with you your requirements and needs and offer free quotations. Everything is made to measure in their factory, offering a quick turnaround with many clients seeing their awning fitted and installed within a week. They also offer a three year gold guarantee for all their clients.
As a thank you to those that have helped them grow and expand over the decades and as an introduction to new customers, Toldos Guardamar are hosting their annual fiesta weekend next week. From 10am on Friday March 7, the fun begins with BBQ's, paellas and live music and entertainment throughout the three day event. A dog show and contest and cake competition also takes part on Sunday March 9 with prizes to be won.
For more information call Toldos Guardamar on 966 726 258 or visit www.toldosguardamar.com