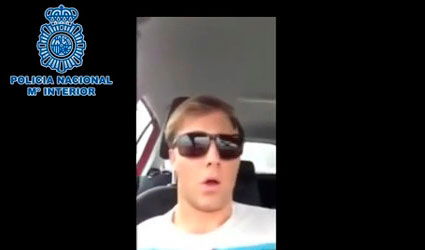 Spanish Police have located a stupid driver, who posted a video of himself driving his car from the passenger seat, thanks to the participation of the Twitter community.
It  took the police only 13 hours to identify the driver who eventually handed himself in.  He is a 20-year-old Spanish born student of French nationality. 
The National Police used their @police Twitter account to post an enquiry about the young driver and over 40 followers replied.
This is not the first time the National Police have used Twitter to complete an investigation. Their Twitter account was also used in the recent capture of a murder suspect.
The Spanish National Police have become popular on social media platforms (they currently have close to 800,000 followers) thanks to their light hearted approach to issues that could otherwise be "very boring or too institutional" to quote Carlos Fernandez Guerra, the force's social media manager.
As well have informing people on the latest investigations, they also enjoy giving friendly tips through Tweets such as "If you are a hipster or from another urban tribe and display yourself on social networks. Think about your privacy (and that of others!). Privacy is trendy"
Many fans have applauded their innovative use of the social tool. Police say they arrested 300 suspected drug traffickers from January 2012 to June 2013 thanks to information provided by Twitter users in response to these appeals for help.