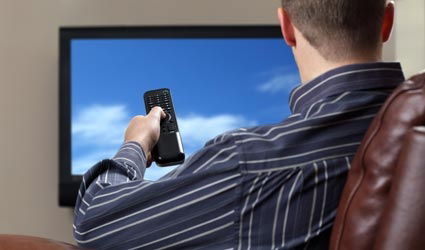 AS far as I can gather, life has been tough on expats in parts of the Balearic region of late, what with the re-alignment of satellites in the sky, leaving us high and dry in the telly department.
Or stuck with the local offerings. Now, as much as I love the sun, sea, mountains and relaxed life here in Spain, I struggle to come to terms with their TV. Perhaps, this is because the Spaniards all have such an active social life and more hobbies than you could shake a remote control at, which renders the concept of TV of little value.
But as a part-time couch potato, I love slouching on the sofa with a glass of 'tinto' in one hand, large handful of salt and vinegar crisps in the other, watching shows like Dexter, Sherlock or Dr Who on box-sets purchased from that giant online retailer with a Brazilian river name, since downloads take three days and we are still officially trying to cope with Spanish TV – for the sake of learning the language.  
But herein lies the problem – because either the programme on offer happens to be in Catalan, which is one step too far for my linguistic abilities, or it is a foreign programme, dubbed into Spanish using the same two voice-overs for every single character – the male voice sounds as if it belongs to a cow-lassoing gringo with a major moustache, while the female voice is invariably that of a 50-year old who smokes 40-a-day, even when the characters portrayed are in their late teens. My suspension of disbelief just can't take it.
Then there are the local offerings – talent shows, game shows and news, along with the dramatic soaps: The aim here seems to be to speak incredibly fast, which means I resort to the Spanish subtitles to be able to follow. I do feel sorry for the person (or computer) in charge of creating these subtitles – because they clearly can't keep up. The relevant text appears several scenes too late, which can lead to all sorts of confusion, and often bears little resemblance to what is being said.
So, I think I will soon be throwing in the towel and seeking out some professional satellite-honing help to take in British TV. Or perhaps I will join the rest of the Spaniards in all the riveting activities that keep them from the small screen.