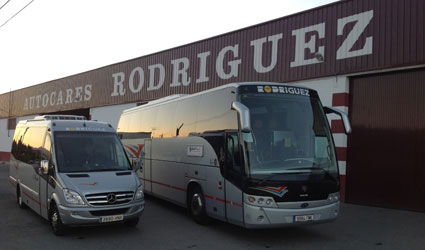 EXCLUSIVE AIRPORT SHUTTLES is an exciting new venture that provides a reliable and fully legal transfer shuttle service from Mojacar and surrounding area, to and from Almeria airport. It is the brainchild of Mike and Tony, ably assisted by Keeley and Clare, who run the parent company Exclusive Holiday Villas.
Mike Chaplin said "We are convinced that our professional approach and friendly attention to detail are the reasons why our holiday rental and management company continues to expand rapidly. The weak link in the chain has always been how holiday makers get to and from the airport." The new shuttle service that starts from June 1 is available not just for all holiday makers or residents, but for anyone using Almeria airport in this region.
Exclusive Airport Shuttles provides an efficient and sensibly priced transfer service that is fully legal and all the users are covered by insurance. It is available for all flights from or to the UK, Ireland and other selected destinations. 'Autocares Rodríguez', the respected and reliable coach and minibus company, will provide the professional transfer service.
There are eight drop-off or collection points at Los Gallardos, Turre and along Mojácar Playa. The cost one way is only €18 per person, with a 10 per cent discount for groups of 4-9 and a 20 per cent discount for groups of 10 or more.
Although only just launched and publicised, Mike said: "We are receiving a large number of inquiries and initial bookings which is very encouraging." For more information and bookings go to www.exclusiveairportshuttles.co.uk, or email [email protected] or call 950 092 602 or 634 317 666.  You can also call into their office at Avda. Almería 78, in Turre, opposite the Chinese Bazaar.
Holiday makers can forget trying to shoe-horn their family and luggage into an expensive taxi! Residents can relieve their friends of having to endure the lonely return journeys at all hours, or avoid the worry and expense of leaving cars at the airport. Peace of mind, when you have so many other things to think about, is guaranteed!