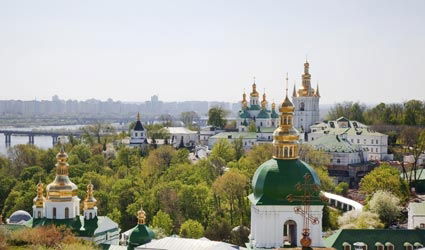 THE 2014 siege of Kiev by the EU and US might be as historically defining as the 1942 German siege of Stalingrad. Will the Russians win this crucial battle too?  
Invited to sit in the EU waiting room, Ukraine's Prime Minister Victor Yanukovych opted instead for Vladimir Putin's Eurasian Customs Union (ECU). Big, if its land mass was a human foot the EU would be toe-sized. Because of its vast mineral wealth the Customs Union is much more powerful than China.
Outmanoeuvred by Putin's Russia the unelected heads of the EU were exposed as presumptuous, arrogant and poorly performing in statesmanship. 
By contrast, Russian President Vladimir Putin bettered the EU Goldman Sachs bank clerks at the negotiating tables. During 2013 Russian diplomacy won the day in Belarus, Syria, Iran and Ukraine. This is the inevitable consequence of a self-elected EU cult lacking in cutting edge political experience. 
To be taken into account is the collateral damage done to the European Union's reputation. Very much a protégé of American ambitions, the EU saw itself as the United States of Europe. Disdain towards Eastern European states was similar to American scorn shown towards Central and Latin American countries.
Western media create the illusion that the peoples of non EU nations are a shifty bunch intent on stealing jobs and milking the welfare state. Former Soviet Bloc peoples were the Mexicans of Europe and quarantined to avoid contamination. 
Then came the European Union's crushing humiliation. Whilst empty promises were made, Ukraine was treated with condescension to wait cap in hand for EU 'pie in the sky.'The Ukraine's elected president opted for pie now. Russia gave it to him on a plate. 
How mortifying the spectacle of a former Soviet Bloc nation snubbing the EU in favour of alliance with their former colonisers. 
Russia's ECU is two-thirds the size of the British Empire at its zenith. It is six times bigger than the EU. Membership includes mineral rich Kyrgyzstan, a nouveau rich country the size of France. Kazakhstan is bigger than Western Europe. Its capital Astana makes Dubai look tacky. The Ukraine is Europe's biggest country. Other nations are ready to join the ECU.
A population head count no longer matters. What counts are geographical position, international trade, political and military alliance and mineral wealth. 
Critics who claim wrongly that Vladimir Putin bribed the Ukrainians seem to find EU and US threats and bribes acceptable. At least the Ukrainian government was elected, unlike the ruling suits of the European Union.
There is an escalating struggle developing between the Eurasian Customs Union and EU. The latter is highly exposed as it is largely dependent on Russian goodwill, trade and its mineral wealth. 
Russia is Germany 1936 whose emergence as a central power was a threat to British supremacy, US and Soviet ambitions. Russia has to be stopped by orchestrated banishment, character assassination, trade blockades and if necessary war.