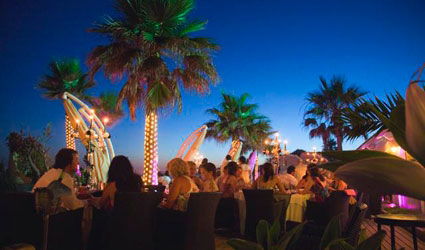 Looking for a restaurant passionate about gastronomy and that puts on great events? Look no further than The Beach House in Elviria, featuring the restaurant's own 'Supper Club' for people who are serious about food and serious about having a good time.
The Beach House's 'Supper Club' events run about one per month. The latest Valentines dinner was all about gastronomy, with a fantastic and refined holiday menu and the special touch of a rose given to every lady guest. The event featured Mayte, an entertainer known along the Costa.
Even more exciting is what's to come! Come out to the next Supper Club for the 'Cuban Night' theme party happening THIS Friday, February 28. You'll be glad you came to enjoy the five-piece live Cuban band, not to mention the authentic Guarapo (with sugarcane) and Mojito bars. The Beach House staff will dress up and fully decorate the heated Marquee Cuban-style and the food will also reflect a Cuban flavour, of course. Two salsa-style Cuban dancers, male and female, will round out the entertainment. There are still spots available, so call The Beach House now to make your reservation!
After Cuban Night, you won't want to miss the fabulous 1920's Great Gatsby Night on Friday, March 28. The Great Gatsby party will feature the Beach House's regular Sunday lunch act The Masquerade, the best music act around, who will actually be writing their own show just for this special 1920s event! An American MC will also be around but we won't give all the details away since there are plenty more special treats to surprise and delight all who come.
And keep an eye out for 1970s/80s Night in April, featuring Mark Edmundson and Mr. Math.
Once again, The Supper Club parties:
Friday, Feb 28 – Cuban Night
Friday, Mar 28 – 1920's Great Gatsby Night
Friday TBD in April – 1970's/80's Night
The Beach House Restaurant
Urb. Coto de los Dolores, Carril del Relojero
29604 Elviria, Marbella
952839458
www.marbellabeachhouse.com