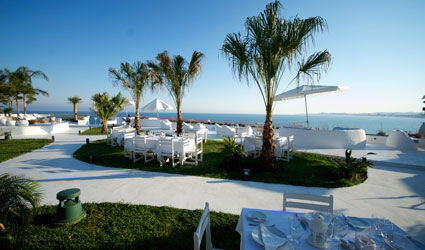 WHEN comparing restaurants that stand out in service and location, Blankko Restaurant & Lounge is a top competitor. Located on a fabulous lookout in Torremuelle (Benalmadena), Blankko's grounds are simply breathtaking. The venue is the perfect combination of crisp white, wooden country charm, sea-blue accessories and Mediterranean palms and plants, right next to the rustic old watchtower of Torremuelle.
Owners Ramin and Kamran opened Blankko in August 2013 where it had formerly been El Mirador. The standout at Blankko is that it has just about every setting customers would want in a restaurant. Beginning inside is the indoor dining room along with a separate 'chill out' room for a more relaxed indoor atmosphere year-round. But the outside with its breathtaking views of the sea is the real attraction which, even during winter, draws people out by virtue of its being simply gorgeous.  The covered outdoor dining area is near the beautiful outside bar. Meanwhile, plenty of extra tables, chairs, tall bar tables and stools are available for the grassy lawn areas for those preferring cosier informality. Best of all, custom-made lounge tables with comfortable 'poof' chairs overlooking the sea ring the edge of the property and are available for reservation at no extra charge.
Additional private areas, some with their own separate music hook-ups, are perfect to reserve for special events like birthdays, weddings, company outings and all kinds of parties. Blankko can cater to your every need, including food menus, drinks, DJs, decorations and more.
Blankko's Fiesta de Carnaval is this Saturday, March 1, followed by the Fiesta de Primavera (Spring Festival) on Saturday, March 22. Watch the website for the upcoming Fiesta del Marisco (Seafood Festival), where €25 gets you 'gamba blanca' prawns, mussels, crayfish, king prawns and 'amontillado' style tuna and more.
Blankko is open for lunch/dinner/cocktails every day except Monday (soon open seven days/week). Hours are noon to midnight, later in summer. And come check out Blankko's once-a-month sushi buffet – this month's is on Thursday, March 13!
Blankko Restaurant and Lounge
Urb. Torremuelle, Paseo de Bellavista 7
29630 Benalmadena Costa
952 443 398
www.blankko.es