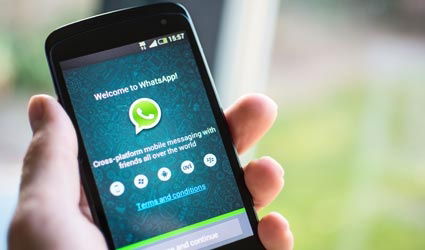 FACEBOOK has acquired WhatsApp for $19 billion (€13.84 billion) in cash, stock and shares, the social network giant announced in a statement.
In their biggest acquisition to date, Facebook has taken on the popular text messaging system, which is used by more than 450 million people.
Although many younger people are drifting away from Facebook, WhatsApp is rapidly increasing in popularity.
In some markets it is now more prominent than Facebook, with approximately one million new users a day.
As of August 2013, some 20 million people were users of WhatsApp in Spain.
Together with Spain, Germany, Mexico or India have also reached the 20-million-user milestone.
The high cost of SMS text messages and increasing sales of smartphone devices are behind the Spanish success of WhatsApp.
Predictions by MassyPhone, an online business message provider for sending WhatsApp messages, say the upward tendency will continue and the text messaging service will have doubled its users in Spain by 2015.
WhatsApp founders, Jan Koum and Brian Action, are now to join the billionaire set in Silicon Valley.
The deal includes $4 billion (€2.91 billion) in cash, $12 billion (€8.74 billion) in Facebook shares and a further $3 billion (€2.18 billion) in stock at a later date.
WhatsApp's brand will be maintained, with its headquarters remaining in Mountain View, California.
Jan Koum, WhatsApp CEO, will join Facebook's Board of Directors, and WhatsApp's core messaging product and Facebook's existing Messenger app will continue to operate as standalone applications.   
Koum said: "WhatsApp's extremely high user engagement and rapid growth are driven by the simple, powerful and instantaneous messaging capabilities we provide. We're excited and honoured to partner with Facebook as we continue to bring our product to more people around the world."
In 2012, Facebook purchased photo-sharing app Instagram for $1billion (€728,420,818), which had been their largest purchase to date before the new deal with WhatsApp.