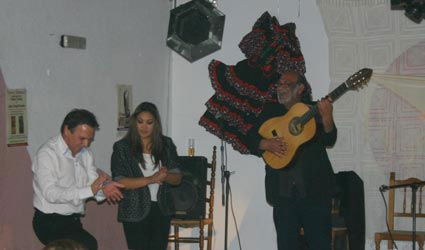 WHEN we first started building houses for the newly arrived foreigners seeking a chance to live in the sun, nothing impressed them more than listening to the workers sing all day long. Music from radios was unheard of so to accompany their drab work routine the silence was mostly broken by short love poems sung to their own harmonies and attitude.   
Vocalizations echoed up the mountainside and down the valleys, whether you liked it or not. Their passion for self assertiveness and morning bravado knew no limits mattering not if the words sung or tune was correct. No one ever contested or challenged another man's song. A companion worker might join in but never with his own song (or version thereof). If he wanted his song, he drifted off to a distant corner of the site and laboured, humming there in fond resonance to his own voice and chosen song.
Every now and then there would be a weekend gig to attend in Turre… up in the barrio. Slowly I became educated in the rudiments of that irascible and sometimes irritating song style referred to as Flamenco. It is purely Andalucian (regional).  Be that as it may, the rest of Spain has been conquered by it.
As the years flew past, the authenticity of this unique form has all but disappeared.  Flocks of charlatans have adopted it as a quick weekend money spinner to fool the unlearned tourist. People that knew it, just quit going to see it.  Flamenco died an unpopular death, unless you could get into those zones where it was practiced almost secretly late at night and until dawn.  
Well, I have astounding good news. It has returned. The true and traditional "Cante Hondo" (deep song) of this once prestigious and esoteric form of music. The authentic shrills that poet, Garcia Lorca, listened to and loved and then wrote about has made a comeback and locally.  Best yet, you can see it each Saturday night in Turre at the new club built for just such a purpose.
Attention. This coming weekend is special.  Turre has a lot of fun bars.  But better sneak over and find this place before show night.  It won't be easy to find and is crowded every weekend. The show is listed for a 9 pm start and entrance is a paltry 5 Euros.  Tapas and beer are even less expensive.
The place in Turre is called Peña Las Fraguas and is located in the calle La Era, Casa Alta in a place that used to be called "Doble Sentido".
Performing are none other than the champions of Andalucia. The singer, Antonio Garcia, "El Genial" with guitarist (and another champion), Francisco Javier Exposito, and dancer, Nuria Martinez, (another Champion) will all be on display. This is a show not to be missed… a Déjà Vu entertainment that should thrill and excite you– at worst, it will be totally memorable.