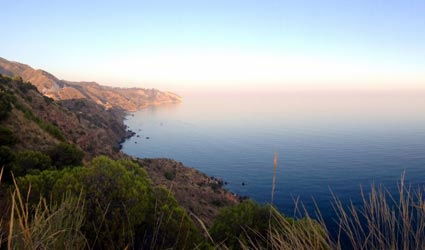 A DIVER from Nerja has raised the alarm about the consequences illegal fishing is having on the Maro-Cerro Gordo natural park (pictured).
Bernabe Jorge Toledo, manager and instructor at the Buceo Costa Nerja diving school, claims that illegal trawlers are destroying marine life in the park's waters.
He says that little remains from the equivalent to 10 football pitches of Mediterranean seagrasses which could be found years ago, and that seahorses and razor shells are disappearing.
Budget cutbacks have resulted in increased illegal fishing in the area, Toledo points out.
On top of that, a court ruling forced the Ministry of Environment to dismiss most of the guards at national parks under its responsibility, jeopardising the recovery of the local environment.
The diving instructor claims he has reported two boats with at least 12 illegal fishers on board to the Guardia Civil, to no avail.
In that sense, he has criticised the lack of action of the authorities, to which he has sent proposals to prevent illegal fishing, but never seemed to take them into account.
The proposals include the placement of artificial reefs to promote marine life and block ship passage.
This, Toledo adds, would also benefit the tourism in Nerja as divers would be interested in exploring the seabed in the area.