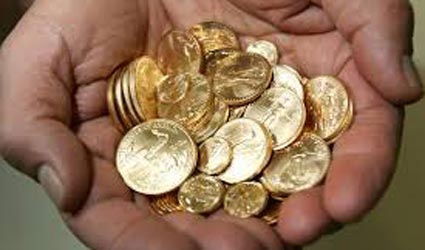 A Northern California couple who were out walking their dog on their property stumbled across $10 million in rare, mint-condition gold coins buried in the shadow of an old tree.
The coins had been buried by a path the couple had walked for years. On the day they found them last spring, the woman had bent over to examine an old rusty can that erosion had caused to protrude slightly out of the ground.
Mint condition
Nearly all of the 1,427 coins, dating from 1847 to 1894, are in uncirculated, mint condition, said David Hall, co-founder of Professional Coin Grading Service of Santa Ana, which recently authenticated them. Although the face value of the gold pieces only adds up to about $27,000, some of them are so rare that coin experts say they could fetch nearly $1 million apiece.
Selling on Amazon
The couple plan to put most of the coins up for sale through Amazon while holding onto a few. They plan to use the money to pay off bills and quietly donate to local charities.
Before selling them, they are loaning some to the American Numismatic Association for its National Money Show in Atlanta.
What makes their find particularly valuable is that almost all of the coins are in near-perfect condition.