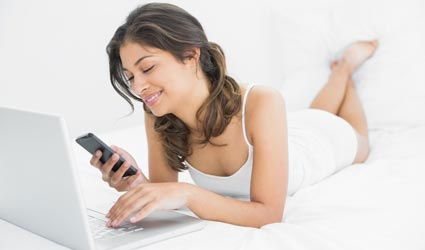 A blonde barmaid became so obsessed with a soldier she sent him a photo of her naked bottom to 'make him happy'. She also posed as his ex-wife by changing her surname to his on Facebook.
Polish immigrant Marta Guskiewicz, 29, of Skipton, West Yorkshire, also posted him a copy of magazine Nuts, together with a £5 note and a message reading 'I love you. I want to have your babies.' She continually called Craig Outhwaite sent text messages and visited to his house.
Even Mr Outhwaite's girlfriend Hollie Waddington was also targeted by Guskiewicz who allegedly created a Facebook page with Miss Waddington's photo on and advertised 'prostitutes, all you want, anything £20, dirty ugly skanks'.
Facebook friends
Marta had met Outhwaite when she worked as a barmaid at a pub in Horton-in-Ribblesdale, but they never had a relationship.
Mr Outhwaite was posted to Afghanistan in October 2012 and used Facebook to communicate with friends – one of whom was Marta.
On his return from active service Marta continued to send texts to Mr Outhwaite and made phone calls until he blocked her number. She turned up at his home and he angrily told her to leave him alone. He reported her to the police because he felt harassed and distressed.
She was served with a Harassment Act Warning on September 4 but she continued to stalk him.
On 12 September Miss Waddington, Outhwaites girlfriend, collected her boyfriend from Catterick Garrison and told him the stalker had changed her Facebook page, and was now calling herself Marta Outhwaite, had his mobile number on the page and had falsely posted that he was involved with prostitutes and drugs.
When she was arrested she admitted to loving Mr Outhwaite.
Guilty plea to stalking
Guskiewicz pleaded guilty at Skipton Magistrates' Court to stalking Mr Outhwaite between 1 May 2013 and 13 January 2014.
The court heard Guskiewicz, who is now working as a shop worker in Leeds, had suffered trauma in 2007 when her then boyfriend died.
JPs sentenced Guskiewicz to a 12 month community order, with supervision from a probation officer and ordered her to complete 40 hours' unpaid work.
She was ordered to pay £85 costs and a £60 victim surcharge.
She is also banned from contacting Mr Outhwaite or going within 500 metres of his house.
Your view
This is another example of how the "social media" can change people's behavior and lead to often tragic events. Is it time to clamp down on these sites and should the privacy settings be stricter? Leave us your views.