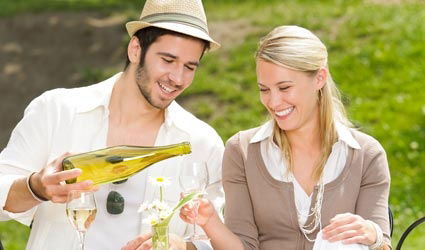 HOPEFULLY your winter cut back and clean-up is complete so that there is now time to develop one or two new attractive features ready for next summer in order to differentiate your garden from others in the neighbourhood.
There are number of possibilities that would add interest, appeal and lifestyle value for the effort and expenditure involved. Which of the following would appeal to you? As you see there are more than flowers to make gardens attractive to live in for much of the year.
A rockery making use of the natural slope or terracing of the garden or a pile of builders rubble covered with earth and attractive weathered rocks.
A water garden perhaps cascading through or alongside the rockery or just a stand-alone pond or fountain.
A jacuzzi as an alternative or in addition to a pool. In either case in a terrace near to the house or tucked away in a cosy corner.
Permanent facilities for alfresco cooking. Perhaps a barbecue, an oven or a fully equipped Spanish style outside kitchen with space for cooking paellas and with a wood fired oven. Perhaps this is the year to perfect the cooking of paellas as our book is now available from Amazon Books. Incidentally it is now also published in Spanish if you are looking for a gift for a Spanish neighbour.
An aviary for breeding tropical birds or a hen house for organic eggs.
A formal herb garden planted up with culinary and medicinal herbs.
Topiary features by trimming and training the top of a hedge or individual specimen trees. Preferably the decision to do this was made before the candidate bushes or shrubs were cut back during January.
Additional fruit trees to source ecological produce.
The making or purchase and installation of bird boxes, feeding tables and baths. The earlier the better in the month to attract this year's nesting birds.
A terrace and seat facing the best views beyond the hedge.
Such possibilities are discussed in Chapter Three of 'Your garden in Spain – practical ideas for gardens that match your Spanish lifestyle'.
Other alternatives discussed elsewhere in the book are to create:
A patio garden incorporating one or more of the above features or an attractive iron or wooden gazebo.
Raised beds for growing fresh vegetables organically for daily harvests.
A greenhouse to make it easier to raise new plants from seeds and cuttings or protect delicate plants during the coldest winter months.
Probably there is insufficient time this winter to construct all those ideas that appeal to you so decide what you eventually want, prioritise them and start with the one or those that will give most pleasure this summer. Naturally obtaining help from a landscape gardener would speed the process but of course take the fun and satisfaction away from the enthusiastic DIY gardeners.
© Dick Handscombe www.gardenspain.com  February 2014.