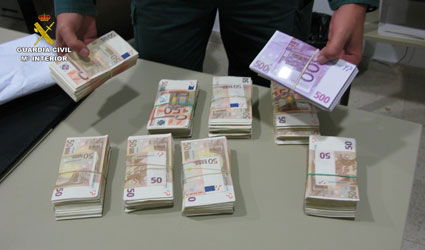 Guardia Civil confiscated €140,000 from a Murcia man, 43, following a spot check in Velez Rubio.
The officers found the money in a bag hidden in the hollow of the spare wheel space of the vehicle.
The intercepted money is one of the largest amounts ever seized in Almeria province under the regulation of money laundering prevention. The owner of the money, faces a charge of money laundering after exceeding the maximum amount of  €100,000 per person which is regulated in order to prevent such activities.
Upon completion of the search, the man was allowed to continue his journey with €1,000. The rest of the money was handed over to the Commission for the Prevention of Money Laundering and Monetary Offences of the Bank of Spain. The Guardia Civil advise that anyone carrying an amount equal to or greater than €100,000 or its equivalent in foreign currency, must declare it in advance to the Customs and Excise Department.