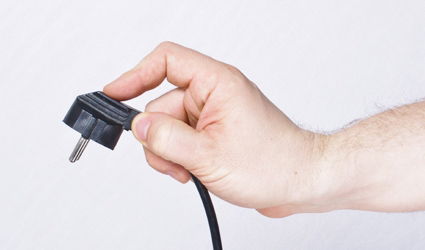 If you want to continue to live in Spain and thrive, this word and its ramifications is essential to understand.
Literally, 'enchufe' is an electrical outlet.  But it actually implies being plugged into the system. It has relevance today, but yesteryear it was tantamount to getting anything accomplished.  If you wanted anything done, a paper stamped, plea submitted, work done on your house, purchase a boat, or rent a car, you had to have an 'enchufe'.
Standing in lines and filling out forms was a mission for the uninformed and ignorant. If you wanted to complete any transaction, you needed to know someone in the company to give the order that rolled down a descending hierarchy instructing someone lower down to fulfil your desires.
A blatant case of this was opening my first office. I desperately needed a telephone. I had filled out all necessary forms, stood in line pleading for weeks, complained to the receptionist to take notes of my concerns. The affair dragged on for months. I was getting nowhere.
Then one Sunday while driving off to see a football game, I saw a well dressed man sporting a white shirt and tie high up on a telephone pole doing repair work. He was obviously someone of importance. I knew instantly he was my 'enchufe' to get the job done. I patiently waited for him to finish and asked if I could take him for a cup of coffee and brandy.
I enquired why he would be working on a Sunday morning. He was simply fixing a phone for a friend. I therein explained my circumstance and we became friends. He was the ONLY one in the world that could help and following the 'enchufe' pattern.  He would prove it. The phones arrived the next day and someone to hook them up!
The real secret in the Spanish maze is finding the right person to lead you through it. Once again it proves the 'inter-connectability' of everyone living here. You can be a person looking from the outside in but, you won't belong and will truly suffer in solution solving games. Back then it was 'be a player or go home'. These new contacts must never be forgotten as you will need them again and again.
Spain, as a situation, is a place totally, absolutely and uncategorically lived by WHO YOU KNOW i.e. your 'enchufes'.