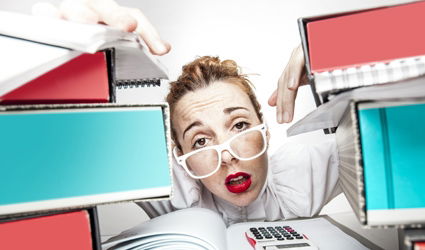 Every country's government seems partial to baffling its subjects with inordinate amounts of bureaucracy – but if there were a league table, Spain would surely take the top spot. Here red tape is wound and in tied in ways worthy of a 50 Shades of Grey novel. Even the great Houdini would struggle to break free.
For those of us who were here last April, the memory of the painstaking 720 declarations is still raw in our minds – a hastily put together and ambiguous initiative by the government demanding every single detail of our finances but with no assistance whatsoever. Helpline?  None what so ever – presumably because no one actually understood it behind the hallowed gates of the Hacienda either.
More recently I have had the dubious pleasure of purchasing a flat in Spain (well, we all need to live somewhere). Of course, the tax man wanted to whopping 8.33 per cent of the value of the property and since I am all for doing my bit to support this waning economy I was only somewhat miffed at paying. Quick bank transfer? Nope. The tax man was ever so keen to get his sticky fingers on every single account we may have but never – I am told – divulges his own. So, off I trotted – exactly as instructed by said tax man – to get a banker's draft (being loathe to circle the city with a briefcase of cash, which was his initial suggestion) and deposit it at a different bank into the Hacienda's account.
The lady at the first bank examined the cheque as if it may be laced with anthrax before shrugging her shoulders and insisting on 'cash' to fulfill my request. I hadn't been expecting the red carpet but some level of gratitude for such a major donation may have been appropriate. Not to be defeated I tried another, larger bank, which also featured on the Hacienda's list of nominated banks.
At first things seemed positive. They understood the concept of someone paying taxes albeit they hadn't actually witnessed it first-hand. Heads were scratched, the poor cheque examined for its apparent rarity, and by then I was practically begging them to take the money since any delay would definitely leave me with heavy fines. The cashier then spent the best part of an hour, directed by a colleague over the telephone, finding a way to credit the draft, which was completely corret, into the account of the Hacienda.
On a positive note, I am now on first name terms with the kind cashier who refused to give up and my ability to jump through ridiculous hoops is coming along nicely. I also see the clear need for lunchtime drinking in Spain – the only thing to calm nerves so frayed by the infinite layers of bureaucracy that rule the roost here. No wonder so many Spaniards are unemployed – dealing with the red tape is definitely a full time occupation.