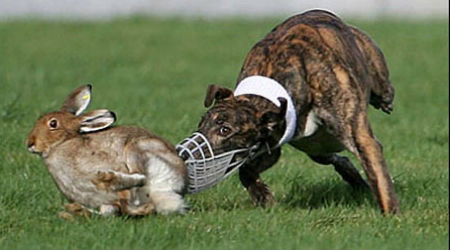 More than 100 people demonstrated in Madrid to condemn ill-treatment of greyhounds.
The protest was organised by several greyhound rescue groups and the pro-animal political party, PACMA.
All called for an immediate ban on their use in hunting.  "We want to speak out for these animals that are abandoned year after year," said PACMA spokeswoman Laura Duarte.
Hunting with greyhounds should be eradicated, the party claimed, but accused Spain's institutions of having little interest in solving the problem.
Greyhounds are abandoned or killed after hunting season ends
So far this year the BAAS Galgos association has rescued 150 abandoned greyhounds, said its president Beatriz Marlasca.
This figure is already too high, she said, bearing in mind that until now the total is usually around 300 a year.
"Hell" begins for greyhounds as the hunting season ends, declared Marlasca, who urged the government to control breeders and pursue owners who abandon animals.
Famous author and journalist Rosa Montero who is well-known for supporting animal rights, was present at the Madrid protest.
The treatment handed out to greyhound is "brutal" Montero said. "Spain can never aspire to being a cultured, developed country unless it respects its animals," she declared.