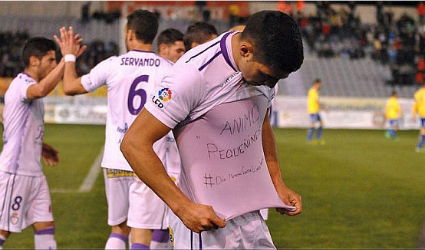 Jonathan Mejia aka Jona displayed a message for children with cancer after he scored a goal for Jaen football club.
On loan from Granada, few had heard of him despite his 12 goals this season.
On February 15 – International Childhood Cancer Day – as Jaen prepared to play in Las Palmas, Jona warned referee Raul Gago that if he scored he would make a gesture commemorating the date.
Jona scored a goal and ignored Gago's warning that he could be reported for displaying a message. Instead he lifted his football shirt to reveal the words "Animo pequeñines (Keep going, little ones) Dia mundial contra el cancer infantil"
Undershirt messages are banned since 2002
Later that week the Competition Committee slapped a €2,000 fine on him.
Like the referee, it was acting on the 2002 FIFA directive banning messages on undershirts.
The veto is meant to target political or religious propaganda or support for terrorism, not innocent messages like Jona's, the Spanish public and social networks complained.
Football commitee withdraw fine after several complaints
Everybody was on his side and several people offered to pay the fine.
The Appeals Committee has withdrawn the fine as it has done several times in the past with the more innocent undershirt messages. In 2012, Lionel Messi was punished for displaying a message wishing happy birthday to his Mother.
"Without belittling the regulation, this committee has moderated its severity," it ruled. The statement also cited the "particular circumstances that moved society and the players."