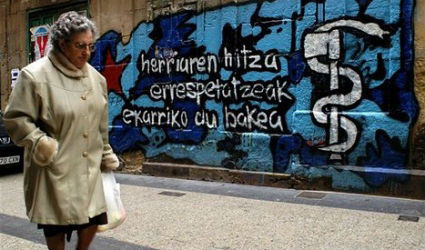 ETA gesture: theatrics, token or a step forward?
The Basque terrorist group, ETA, responsible for killing at least 831 people since the late Sixties, announced the end of its armed campaign in October 2011.
Their statement listed two rifles, two revolvers, two hand grenades, 300 bullets, approximately 17 kilos of explosive, nine timers and a detonation cord.
A "small amount of weapons" is now under seal, confirmed the International Verification Commission in Bilbao.
The BBC also received video footage shot at an undisclosed location last month which shows two hooded ETA members dressed in black. They displayed the weapons – believed to represent only a fraction of the group's weapons – which were then checked by the verifiers against an inventory.
The group stole 400 pistols from a French arms depot six years ago and is believed to still hold 250 of them.
Mariano Rajoy, the president of the Spanish government has refused to negotiate with ETA and insists that it first hands over all weapons and then disbands.
ETA's latest gesture is regarded as "a token" and "theatrical" by the national government, while Iñigo Urkullu, regional president of the Basque region described it as "a small step."
"It was an insufficient but a necessary first phase towards full decommissioning," said Urkullo whose Basque Nationalist Party, unlike the Partido Popular, recognises the Verification Committee.