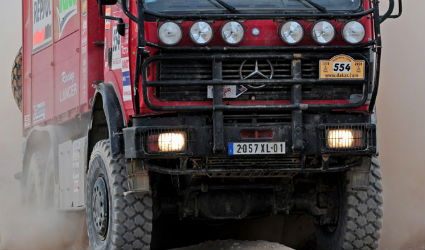 Two Spaniards were arrested as they tried to smuggle almost 1.4 tons of cocaine into Europe.
The drugs, wrapped in triple layers of plastic, were hidden inside the spare tires of a support lorry for the Dakar rally, which this year was held in Chile, Argentina and Bolivia. The lorry and a second technical support lorry arrived by sea at Le Havre in northern France. Both Spanish drivers were later arrested in a motorway rest area in Normandy. Police are almost certain the cocaine was bound for Spain.
The 1.393tons of cocaine is the largest haul ever intercepted on the French mainland. The investigation by French, Spanish and Bulgarian police remains open. Police sources revealed an international network is behind the smuggling operation and more arrests are likely to happen in several countries including Spain.
The sources also emphasised that none of the four detainees are linked to ASO (Amaury Sport Organisation), the Dakar rally organisers.
Two more men, both Bulgarians and whom police regard as the organisers, were arrested in a similar swoop in Bulgaria.