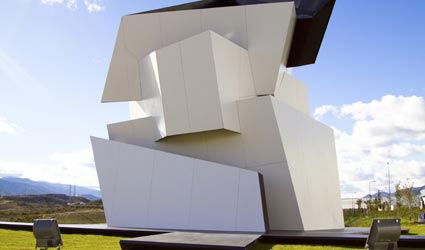 Unveiling of Daniel's Libeskind sculpture "Beyond the wall"
The sculpture has been installed in the heart of the facilities of the multinational Cosentino in Cantoria showing the many possibilities of the new material Dekton from which it has been built. Daniel Libeskind is an internationally recognised figure in the practice of architecture and design. He is the author and designer of the restoration of Ground Zero in New York, and the architect responsible for the construction of the One World Trade Center.
"It was amazing to work with such an innovative material, it is a product of the 21st century that offers many possibilities for architecture," said Libeskind.
After the unveiling of the Beyond The Wall sculpture, Daniel Libeskind and Cosentino Group's President, Francisco Martinez-Cosentino visited the €128 million new factory where Dekton is manufactured.
Francisco Martinez-Cosentino remarked: "I feel very honoured that Daniel Libeskind has chosen Dekton for his creation, and want to thank him for his visit to Cosentino Headquarters. Our aim with the ultracompact surface Dekton is to suit any design request guaranteeing extreme performance. I am proud this has been achieved for the remarkable installation Beyond The Wall."