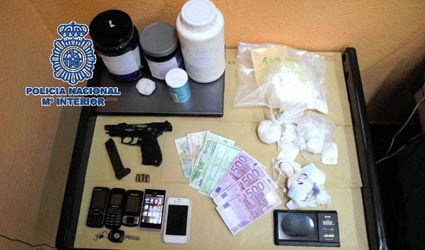 National Police have arrested three people for drug related crimes in Velez-Malaga.
Two of them, a Dominican man and his 23-year-old girlfriend, were arrested for alleged cocaine trafficking, whereas the third one was arrested for buying the drug.
National Police started an investigation after knowing a man could be trafficking cocaine in Velez-Malaga and nearby regions.
After a short investigation, the man was arrested last Monday while he was selling 35.7 grams of the drug to a man in Torrenueva (Granada), who was also arrested.
The alleged trafficker's girlfriend was arrested later as officers believe she had been cooperating with him in trafficking the drug.
In a search of the couple's house in Velez-Malaga, National Police seized 207 grams of cocaine, 799 grams of adulterating substance for drugs, €2,170 in cash, a vehicle and several tools to manipulate the drugs.
They also seized a converted starter pistol with four cartridges, for which the Dominican man has been charged with alleged weapon possession.