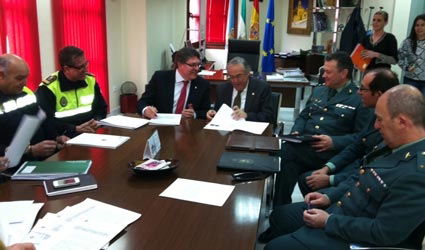 A SPECIAL meeting called at Albox Town Hall
The meeting pledged to fight against two men allegedly waging a war of extortion against local businesses.
Police chiefs from State Security, Local Police in Albox, the head of the Group Violence Against Women, Concepcion Reyes and councillors from Albox Town Hall attended the meeting chaired by the mayor Rogelio Mena. Also there was Government Sub Delegate of Almeria, Andres Garcia Lorca.
The Mayor of Albox, Rogelio Mena, pledged his commitment to fight crime to ensure the safety and freedom of the townspeople. This comes after a handful of unsavoury incidents in the town where a few individuals have allegedly been intimidating people.
Mena said: "Albojenses can be sure that we are going to fight with all the means necessary against crime of any kind taking place in our town and in this case supposedly taking place, we will take concrete steps with a larger number of controls and greater police presence."
Extraordinary meeting for urgent matters
Following on from this statement and following further developments the town hall held an urgent and extraordinary meeting on Saturday with just one item on the agenda. A motion was approved unanimously to submit a complaint to the court against two alleged perpetrators of a series of threats as a part of a campaign of coercion and extortion that shopkeepers and restaurateurs are suffering in the town, in particular in the Loma district.
Along with the complaints of those affected, the town hall will seek preventative measures either with prison or the prohibition of the two 'known criminals' to reside in the town.
As a further alternative the town hall will ask for restraining orders prohibiting them from entering establishments in the town.
Mayor Rogelio Mena commented: "We are doing it in defence of the law and freedom of all the citizens. There are 12 complaints filed, two for damage to vehicles, one for robbery, one for threats, eight for property damage and also another collective complaint by citizens who have businesses that have been adversely affected."
During the meeting spokesman Matias Garcia pledged  collaboration with the police forces to prevent such situations from ocurring.
At the same time he stressed that the crimes of extortion, coercion and threats are punishable under the Penal Code with imprisonment of one to five years. He added that in this case the individuals concerned have criminal records for which they have spent time  in prison. The seriousness of the alleged events are causing social alarm which has led the town hall to ask the courts for these injunctions . The complaint will be presented in the next few days before the court of Huercal Overa.