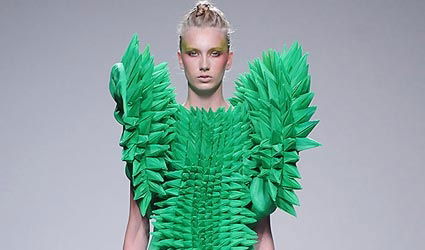 POP icon Lady Gaga has chosen the creations of a Spanish designer to appear in her next musical video.
Lady Gaga will reportedly wear 'at least' one of the creations of Eva Soto, a young designer who has been linked to the Samsung EGO catwalk.
The delighted designer from Galicia, aged 29, said that she had always admired the style of the pop singer but never imagined that she would notice her designs.
She admitted she found it hard to believe the deal, which had been struck following an e-mail which the pop diva herself had sent to the designer to tell her how much she liked her ideas. She hopes the collaboration will help Eva gain international recognition.
She is however trying to keep her cool, trying not to get overly excited, despite getting involved with one of the biggest stars of this decade who has selected creations from her collection  'Entre Lineas' (Between the Lines).