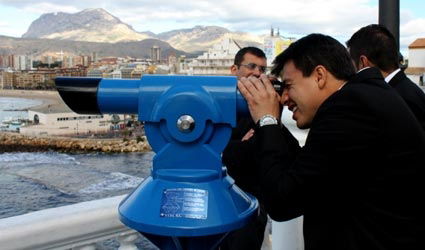 BENIDORM now has a square bearing the name of Manizales, a city in Colombia.
The link between the two municipalities goes back to November 2012, when the Servigroup hotel chain opened the Ciudad de Benidorm hotel in Manizales.
The town hall delegation that travelled to Colombia for the inauguration was headed by Benidorm mayor Agustin Navarro who was named guest of honour and given the keys to the city.
Now Benidorm has received a delegation from Manizales, led by Navarro's counterpart, mayor Jorge Eduardo Rojas Giraldo.
The high point of the visit was the unveiling of the Plaza Ciudad de Manizales plaque in the plaza adjoining the Colci cinemas in the Rincon de Loix. The ceremony was accompanied by the Valencian dance, "peuet" performed by Benidorm's fiestas "damas", followed by an equally traditional "cumbia."
"Benidorm is clean and faultless"
The event was followed by a gala dinner offered by the president of Servigroup Hotels, Jose Maria Caballe.
 "Benidorm is clean and faultless," declared the Manizales mayor who was later given a tour of the town.  It has many tourist features he hopes to copy, he said.