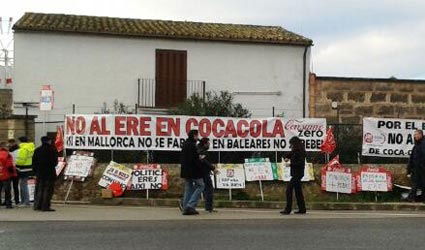 Coca cola closing four bottling plants in Spain
COCA-COLA employees in Palma decided to continue with their protests even though they have admitted the chances the factory will remain open are slim.
Employees drove through all the avenues of Palma today (Friday) from 9am as a final act of protest.
This is despite the factory's works committee recognising the bottling factory may face closure in the light of Coca-Cola's latest announcement.
Coca Cola offering voluntary dismissals for employees 
The Atlanta, US, based company announced earlier this week it had dropped its plans to dismiss 750 workers.
Coca-Cola will instead offer voluntary dismissals for employees, consisting of 45 days' salary for each year worked, with a maximum of 42 months, plus an additional €10,000.
It has, however, kept to its decision to close four of its 11 bottling plants in Spain, including the Palma one.
Initial plans by Coca-Cola were to affect 1,250 workers, with more than 700 being laid off and another 500 relocated to other plants.
Workers have staged protests across Spain since the beginning of February.
In Palma, they even prevented the entry of the product from the mainland, as reported by the Euro Weekly News.