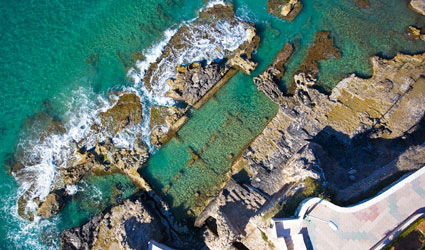 CALPE, Javea and Campello each have shoreline archaeological remains known as the Queen's Baths (Baños de la Reina). 
An exhibition that opened recently at Calpe's Ajuntament Vell focuses on the three sites and their background, with particular attention to Campello.
The Campello complex L'Illeta de la Reina covers a 4,000 square metre site and was first inhabited during the Bronze Age. It was used inhabited by Iberians, Romans and Moors. 
The Illeta was originally a small promontory that later became separated from the mainland by erosion.  In 1943 it was joined once more to the mainland although this destroyed valuable remains. 
As in Calpe and Javea, the Illeta incorporates fish farms built by the Romans although these were believed by later generations to have been the private baths of a Moorish queen. 
The exhibition, which continues until March 30, has been organised by Alicante city's Archaeological Museum (MARQ) in collaboration with Calpe's Museo de Historia.  It continues until March 30.