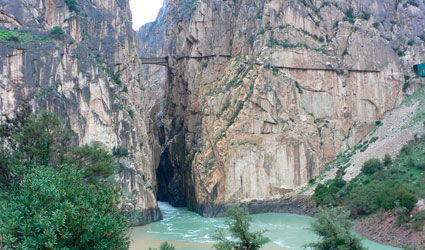 Malaga Provincial Government has sent an official request to the Royal Household to invite Prince Felipe to inaugurate the 'Caminito del Rey' next year.
The project to restore the so-called 'death walkway' in El Chorro near Alora, which is of great environmental and tourism interest for the province, has a budget of €3.12 million from the Provincial Government and is due to be ready for opening in early 2015.
The President of the Provincial Government, Elias Bendodo, said it should cease to be a dangerous and banned place to become somewhere that everyone can enjoy.
The Camino del Rey passes across the Gaitanes Gorge between Alora, Ardales and Antequera, and was inaugurated by King Alfonso XIII in 1921, Prince Felipe's great-grandfather. It has been closed for many years due to its dilapidated state. It was built between 1901 and 1905.
It is 100 metres above the river and will be four kilometres long and one metre wide. The new walkway will be made of wooden panels on metal supports drilled into the rock. There will be parts with glass panels so visitors can see the gorge below.
The works have been assigned to local company Sando and will require builders specialised in working at heights as well as a helicopter. There will also be assistance from experienced climbers.