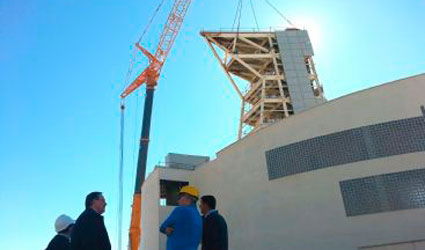 Torrevieja workers have moved in to remove an embarrassing landmark that stands as testament to financial mismanagement.
For eight years locals and visitors to Pilar de la Horadada, near Torrevieja on the Costa Blanca, have scratched their heads and wondered about an unfinished feature on what should have been the town's flagship auditorium.
The project began 13 years ago under former Socialist Mayor Ignacio Ramos and was supposed to cost €2.4 million.
Work on the building, which was to include an underground car park, topped with a dove, 30metres high, has been frozen since 2006 after costs spiralled with €4 million having already been spent on the project.
Now, the neck of 'the dove' on top of the building has been pulled down, at a cost of €64,000.
Mayor Jose Fidel Ros said the government team decided to remove the tower or 'neck' of La Paloma, which was in a dangerous state "and then finish a work that is now an embarrassment to our people."
He said: "We will try to take advantage of the rest of the construction, finish it with minimal budget and thus not throw away the disproportionate investment that came out of the pockets of every citizen of Pilar de la Horadada."