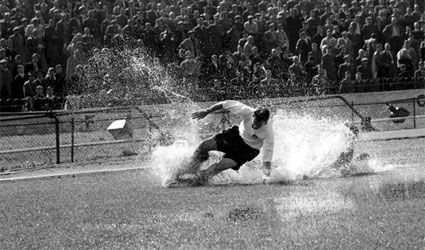 Former England international footballer Sir Tom Finney died last Friday, aged 91.
He played for his home club, Preston North End, from 1946 until 1960, scoring 210 goals in 473 appearances. He also netted 30 times in 76 games for his country.   
Never booked or sent-off, he was voted 'Footballer of the Year' in 1954 and 1957, being the first player to win the prize twice. Able to play on both wings and centre-forward, he was clever, strong, quick, had a terrific engine and could shoot and head a ball as good as anyone in the game.  
An FA Cup final runner-up in 1954, he never won a club honour but always gave 100 per-cent and when he retired after 14 years at Deepdale, he left an enormous hole that will never be filled.  A plumber by trade, Tom was later president of his beloved club. 
I had the pleasure of playing with Tom in two charity matches, many years after his retirement. And even at the age of 50, he showed us all the tricks. "Enjoy the game, never get downhearted" he told me.  What a great man. R.I.P.
By Tony Matthews