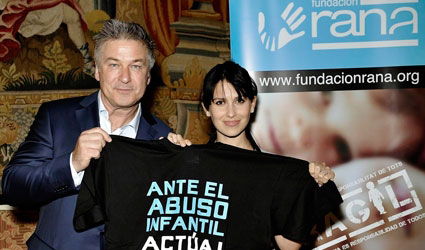 Hollywood star Alec Baldwin and his wife Hilaria have made a donation to the Abused Children's Help Network (RANA) in the Balearic Islands.
The RANA foundation has received €62,000 which the couple was paid by People magazine for the first exclusive photo of their daughter Carmen Gabriela, born in August.
This will help the foundation continue its work to prevent sexual abuse against children, which it has been carrying out since 2005.  
RANA was chosen by the Alec Baldwin Foundation following the proposal of International Integrators, a private institution which promotes the concept of integral health and which has shown an interest in RANA's work.
The founder and President of RANA, Elizabeth Homberg, thanked the Baldwin family for their generosity.
The actor and his wife explained that their daughter would grow up in a loving, safe environment but that they want her to understand that she has the capacity to make the world a better place and help other children to enjoy their childhood, which is an important factor for making better adults.
For more information on the RANA foundation visit www.fundacionrana.org