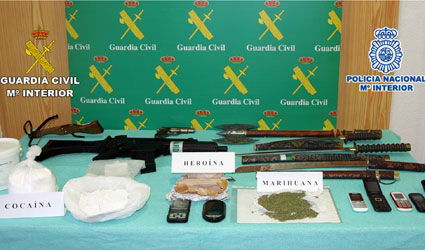 Two drug distribution outlets have been dismantled in Murcia.
Four people, two men and two women, believed to be leaders of the gang, were arrested in a joint operation between the National Police and Guardia Civil which saw extensive surveillance and investigations carried out with 50 officers involved.
Police seized a large quantity of heroin ready for direct sale, cocaine, marihuana and instruments involved in the cutting and preparing of drugs for sale. Two high-end vehicles and various types of weapons were also recovered.
During the searches, officers found children living in two homes where the drugs were being trafficked, in direct contact with the substances.